¡Viva la Resistencia!

Un tribute pa' mí carnal raulrsalinas, "Tapón". Gran poéta y activista y ún hombre de respeto. Que en Paz descanse. "Caricaturas," was the fifth and last mural we worked on together. There were a few other things that we worked on, but those stories will have to wait...........(don't miss picture at bottom)

¡Ay lo wacho Tocayo!

I am greatly honored that he wrote the following poem for us all. He brought down the house when he first read it at the dedication at Brooke Elementary School.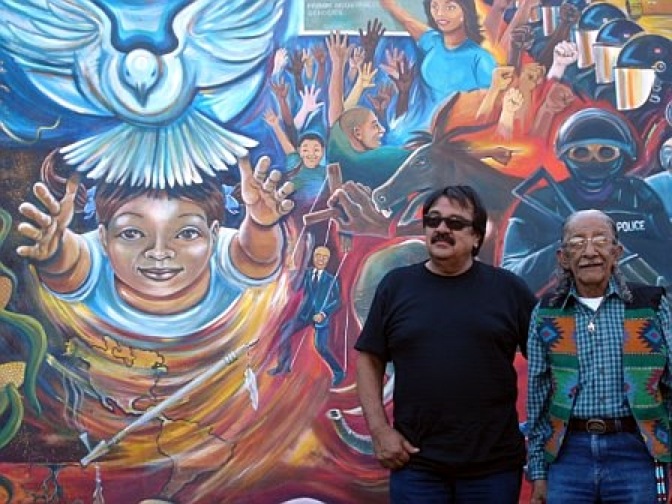 Poem Para la Dedication de un Mural
for my compa Raúl Valdez & los niños y niñas de "La Brooke" Elementary

por raúlrsalinas
-que en paz descanse-

En esta
mi Comunidad
complete
beats the drumming
of an active
HeartSong
Long neglected
walls and halls
de l'escuelita
of youthful
vecindad.
Pintor
of blazing
pinceles,
manteles con flames
decorados.

Trenzas Indígenas
immersed
in hojas rojas
paper paginas
(la historia)
brotando de nuevo
on walls
cantando colores
olores de flores
in ArcoIris Danza
Chanza que un dia
(con alegria)
caring and sharing
con ninos of
Rainbow people spirits
walking/talking
with us
not knowing of each other,
learning
en la lucha
de tú/yo
you & me
we
then, can understand
comprender
apreciar
to respect
the similarities
las diferencias
of World culture
que's lo mero
Esencial

-austin, a 15 de septiembre del 1983
East of the Freeway
1995 Red Salmon Press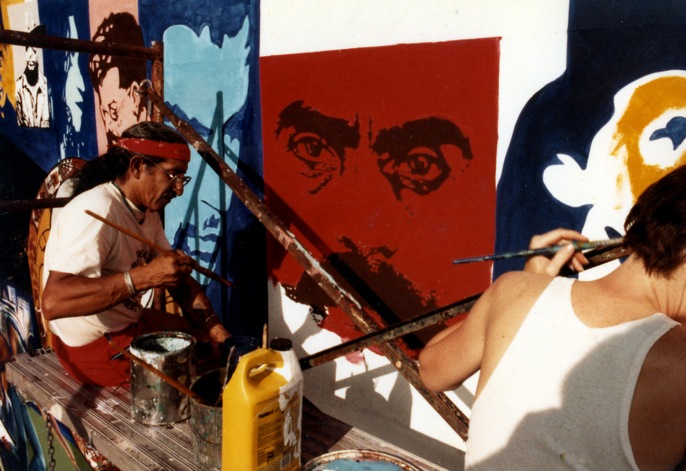 Raúl painting 'Zapata' on the mural "Ollin," 1984.